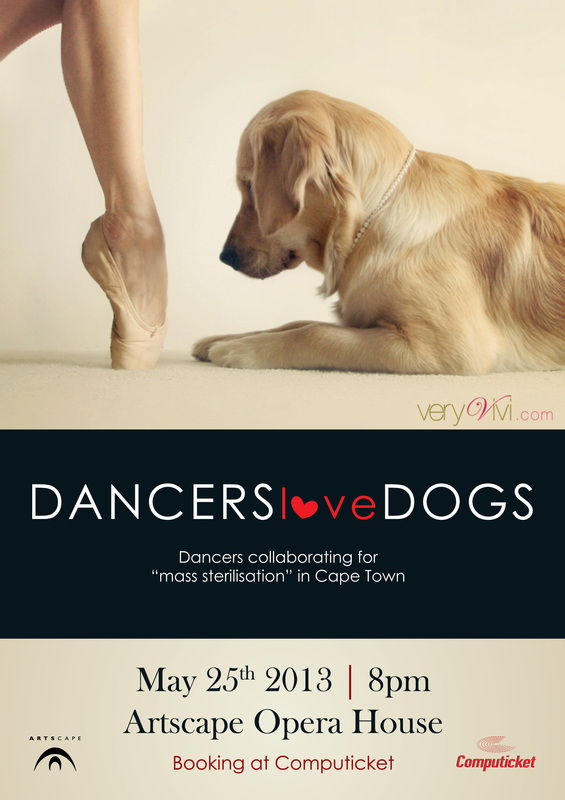 Less than a year after their first event, the second Dancers Love Dogs charity performance will take place at Cape Town's Artscape Theatre on Saturday 25 May, with an exciting line-up of top dancers and performers including the Cape Town City Ballet and Bovim Ballet.
They're all collaborating towards the mass sterilization of dogs in and around Cape Town's rural areas and townships, where this treatment is sorely needed but sadly unaffordable, leading to too many pups without a home, or food, or a loving cuddle.
Helping homeless doggies in need
After rescuing one too many starved strays and lost dogs, Brigitte Reeve-Taylor, a local dance teacher and choreographer, decided to make a difference by combining her love for dogs with her love of dance.
Since 2012, her Dancers Love Dogs concerts have spread to Johannesburg, Pretoria and Durban and the events have cumulatively raised over R290 000.00, which has allowed for more than 1500 animals to be safely sterilised. Dancers Love Dogs has also been registered as a non-profit organisaton, securing its important official NPO status.
Charity concert line-up
This once-off performance will showcase works by Cape Town City Ballet, Cape Junior Ballet, Bovim Ballet, Ikapa Dance Theatre, Waterfront Theatre School, Zip Zap, Martin Schonberg, the Eoan Dance Group and Adele Blank. Special guests include Dancing With Dogs Cape Town, a quartet of four women who perform with their dogs, all of which have been rescued and nurtured back to wholeness by their trainers. The MC will be the spectacular Lillyslappedsilly from Mince fame.
All the performers have generously donated their time and skills without charge and Artscape has also offered the venue at a reduced rate. In addition, a raffle will also be held on the night with great prizes to be won, donated by several generous sponsors. All the proceeds of the event will go towards the venue hiring fee and the costs of sterilising dogs.
Event details + bonus puppy love:
Date: Saturday 25 May 2013 at 8:00 pm
Venue: Artscape Opera House, Cape Town
Tickets: R250 per person (the exact cost of one sterilisation) via Computicket
Want to help or make a donation to this pawsome cause? Contact Brigitte on m2m@mweb.co.za or via the donated website or on Facebook.
But before you go clicking away, first get a good dose of "aaaaah cute" when you watch this video of poster pup Vivi and how her ballerina dreams came true.
Category: Dance News