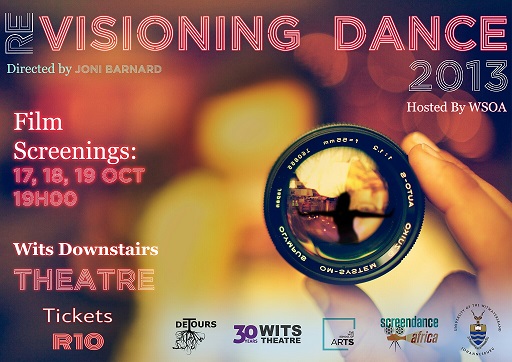 Watch as dance and film converge from 17 to 19 October 2013 at the Wits Theatre, when they present the Re-Visioning Dance Festival, showcasing the latest dance works made specifically for the camera from dancers, choreographers and film producers from across Africa and around the world.
Now in its second year, the festival focuses specifically on showcasing short films where dance and movement is the medium of communication (see the video clip below for an example). Through this festival, the creators – Joni Barnard and Jane Crewe from the Wits School of Arts – hope to encourage students, young professional choreographers and filmmakers to explore this exciting field of screendance.
Teaming up with Screendance Africa, the Cape-Town based dance-for-film experts, the Re-visioning Dance Festival will be screening works from South Africa, Rwanda, a collaboration between artists in the Congo and Canada, as well as the USA.
These works feature artists such as Jeannette Ginslov, Catherine Meyburgh, Dada Masilo, Dusko Marovic, William Kentridge, Louise Coetzer, Chantel Cherry, Ella Gabriel, Umar Bradlow, Shelley–Anne Rabe, Ndoli Kayiranga and Eugene Dushime (Rwanda), Tori Lawrence (USA), Stefan Verna (Congo/Canada) and many more.
The programme will also include a special sneak preview screening of a global dance film that is still under construction.
While directed by Joni Barnard, a lecturer in the Movement Division at the Wits School of Arts, the festival is brought to life with the support of third year Wits Arts Management students, who manage all aspects of the running of the festival as part of an intensive internship in arts management.
Festival details:
Dates: 17 – 19 October 2013 at 19:00
Venue: Wits Downstairs Theatre, East Campus, Braamfontein, Johannesburg
(Free parking is available in Senate House; the entrance is on Jorissen Street, Braamfontein.)
Running time: Forty minutes, no interval.
Tickets: R10, available at the door.
For more information: Contact Catherine Pisanti on 011 717 1376.
Telling stories via dance on film
See this short film that featured at the 2012 Re-Visioning Dance Festival for a haunting and surreal example of the art of motion control…
Category: Dance News