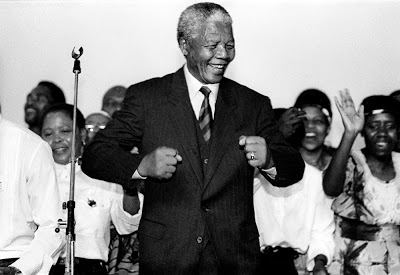 At a recent concert in Johannesburg, South African musician Johnny Clegg shared a little story with the audience about a special moment back in 1999 at a concert in Frankfurt, where Nelson Mandela surprised everyone on stage and delighted everyone in the audience by unexpectedly walking on stage in the middle of one of Clegg's songs.
Mandela joyously danced his signature Madiba shuffle and when asked if there was anything he wanted to say, he gave us this:
"It is music and dancing that makes me at peace with the world, and at peace with myself."
– Nelson Mandela
You can watch Madiba's surprise stage appearance in this video clip, and in particular notice how he then encourages everyone, including those far at the back, to stand up and join the dancing, insisting that Clegg and his band repeat the song so that they could all dance again.
The song Asimbonanga – translated as "we have not seen him" – was written by Clegg in 1986 calling for the release of Nelson Mandela. In this next clip, Johnny Clegg shares his thoughts behind the song and his personal experiences with Madiba.
The world learned today of the passing of this great icon. But although we are deeply saddened, we are also truly inspired by a man who changed the world and told us to join together and dance.
Rest in peace, Madiba. We promise to always keep dancing.
Category: Mind